Ultrapeel
Facial
Rejuvenation
Mattioli Pepita
Ultrapeel Microdermabrasion Facial Peeler
Ultrapeel® Microdermabrasion is the most up-to-date, technologically advanced and affordable technique of skin exfoliation available. Ultrapeel® Microdermabrasion Systems can be used on both the dermis and epidermis layers of every skin type for a range of treatments—from aesthetic to severe dermatological conditions—with excellent results.
Facial and body peeling
Ageing skins
Dry, oily, dull, congested and blemished skins
Open pores & Wrinkles
Acne
Scars
Hyper pigmentation and Actinic cheratosis
Stretch Marks reduction
Tattoo removal
General dermabrasion.
Pre-treatment for further applications (Laser and Chemical Peel)
Dynamic Wrinkles
These are expression lines that may appear as folds when the skin is not moving, and deepen with facial movements or expressions.
Static Wrinkles
These wrinkles are visible at all times and do not change in appearance with facial movements.
Scars
As the result of acne or injury to the skin, scars may be rolling (a wavy appearance to the skin), pitted, discolored, or have raised borders.
Pigmentation
Although you may notice a slight redness, it typically resolves within just a few short hours. We recommend you simply apply some sunscreen and makeup, and return to your normal daily activities.
Vascular Conditions
Blood vessels visible on the surface of the skin, vascular lesions that appear as tiny blood filled blisters or even a constant flush of facial redness.
Loss Of Skin Tone
Weakening of the supportive skin structures (collagen and elastin fibers) that result in a loss of skin firmness.​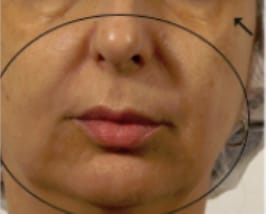 • No downtime necessary, with a only slight red hue to the skin after treatment, patients can resume normal activity, immediately.
• Treatments are comfortable with only a slight scratchy feeling at the onset (more for patients with sensitive skin).
• Mattioli Engineering Ultrapeel microdermabrasion removes the dead and damaged skin cells by a jet of fine microcrystals that are vacuumed across the skin.